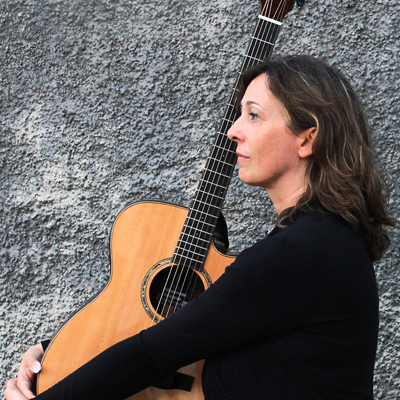 In this section there are a few news about my activity with the acoustic guitar.
I entered this side of music quite recently, nevertheless I could experience some very rewarding opportunities.
In 2015, two months after buying my first acoustic guitar, I took part to the selection for the Franciacorta Acoustic Festival, getting to the final match and winning the second prize.
In the same year I have been finalist in the Obiettivo Maf Competition in Fiorano Modenese.
In 2016 I have been chosen for the final match in the prize "Chitarrista Emergente ADGPA", which I won recurring in the 2017 selections.I have been invited to play in many important festivals, among which "Ferentino Acustica", "Un Paese a Sei Corde" and in November 2017 I have played in the Issoudun Festival, in France.
Now a new cd is available, I'm working with Italian songwriter and songsinger Rebi Rivale and doublebassist Filippo Tantino and there will be a lot a new music.
Stay tuned here or on Facebook page Paola SelvAcustica!