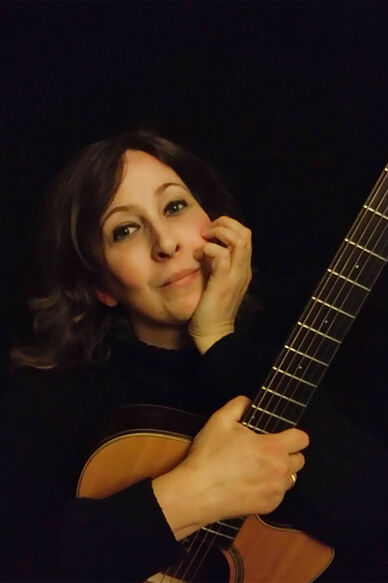 Paola Selva graduated from Piacenza's "G. Nicolini" Conservatory of Music with M° Marco Tajo and got specialized degrees both in teaching and interpretative orientation from Udine's "J. Tomadini" Conservatory of Music with M° Fabio Spruzzola.
She attended advanced training courses taught by important guitar teachers (Alirio Diaz, Oscar Ghiglia, Massimo Lonardi, Mauro Storti, Pavel Steidl), she has been awarded in many guitar competitions, has performed in Italy and abroad, always gaining both the public's and the critic's approval, and has taken part in several festivals both national and international as a member of the jury.
She holds a strong concert activity as soloist but her great interest has always been dedicated to chamber music as seen by her many ensembles. In 1994 she founded Trio Silene (flute, English horn and guitar), winner of the first prize in the "Comune di Roburent – sac. m.o G. B. Ansaldi" 21st National Competition, of the first prize in the
"Premio Acqui Musica" 9th International Chamber Music Competition, of the first absolute prize in Lamporecchio's "Giulio Rospigliosi" 4th National Competition, of the second prize in "Giulio Viozzi" 2nd Musical Interpretation International Competition in Trieste and of the first prize in "Città di Voghera" 6th Guitar Festival.
She loves doing research and creating new projects in the music field. Together with Armenian writer Sonya Orfalian she created the concert-melologue "Racconti e Musiche dall'Armenia" (Tales and Music from Armenia) and her latest work is "Orient-Express, viaggio musicale nell'Europa degli anni 1883-1914" (Orient-Express, a musical travel in Europe from 1883 to 1914).
In 2015 she approached the acoustic guitar, by which she has gained great results: in the same year she won the second prize in the "Acoustic Franciacorta" Festival and was a finalist in Fiorano Modenese's "Obiettivo Maf" Competition. In 2016 she was a finalist in the "Chitarrista Emergente ADGPA" Prize, which she won submitting again the next year.
Since its first edition in 2005 she has been the artistic director of "I Concerti del Giovedì" in Tavagnacco (Thursday's Concerts) Chamber Music Season and of "Note di Natale a Tavagnacco" (Christmas Notes in Tavagnacco) Review since 2015.
She writes her own music and in 2007 she won the first prize in "Padenghe sul Garda" 7th National Competition – sect. 1 with her composition "Improvvisamente".
She also arranges and transcribes music for several ensembles (Trio Silene, "La Vie Parisienne" Cello Ensemble, Anahit Ensemble, Tritsch Tratsch Quartet, Mikrokosmos Italian Instrumental Ensemble, Friulian Song Festival, etc.).
She teaches guitar and wrote her own guitar method for the early stages of study, which is being published.
Furthermore, she graduated with top marks from Udine's (Rivarolo Canavese section) A.R.Te.M. (Regional Music therapy Association) three-year course in Music Therapy Training and as music therapist she attended many workshops, conferences, conventions and congresses both a speaker and in the public.